Cooly Rocks On 2022 – Harvest Moon Swing Ball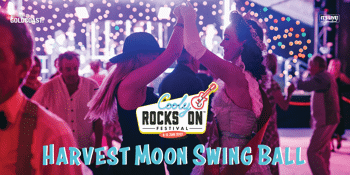 Details
Get ready to swing into history at the highly anticipated Harvest Moon Swing Ball!
In a celebration of the original swing era, the 1940s style shindig will feature a swing band (still to be announced) andplenty of dancing taking you on the journey of eras gone by.
On the night, enter via the red carpet and enjoy that VIP treatment, grab your complimentary drink on arrival, enjoy a taster, then heat up the dance floor as you jitterbug the night away at the party of the year.
PLUS continue the party from 10:30PM with Dezzie D and the Stingrayz at The Coolangatta Sands Hotel.
For more information onCooly Rocks On,please visitwww.coolyrockson.com
By purchasing a Harvest Moon Swing Ball ticket, you agree to theterms and conditionsas outlined.