Cooly Rocks On 2022 – VIP Legends Pass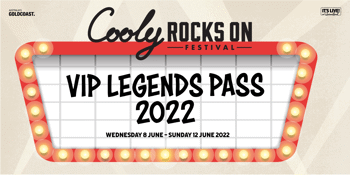 Details
Get the VIP treatment, and feel like The King! Were giving you the chance to secure yourself an exclusive ticket to Cooly Rocks On 2022!
Back for its second year, Cooly Rocks On will continue to offer an exclusive VIP Legends Pass, providing pass holders with the ultimate Elvis inspired experience. Our VIP Legends Pass family will enjoy VIP seating, meet and greets, exclusive events throughout the festival, a themed bar and a series of special king style gifts just to name a few. With over $1,000 in value you can get the ultimate VIP Elvis experience for just $449! (LIMITED TICKETS AVAILABLE)
To view the full list of inclusions visit www.coolyrockson.com/legends-pass
Not only do VIP Legends Pass holders receive all the above inclusions valued at over $1,000, but you can also enjoy all Cooly Rocks On has to offer with rockabilly, rock n roll and swing music performances on the Queen Elizabeth Park Stage, the Pin-up Pageant, Harvest Moon Swing Ball, dance performances and workshops, Show N Shine and Cooly Rocks On Markets all happening during Cooly Rocks On 2022.
For more information onCooly Rocks On, please visit www.coolyrockson.com
By purchasing a VIP Legends Pass, you agree to the Terms and Conditions as outlined.