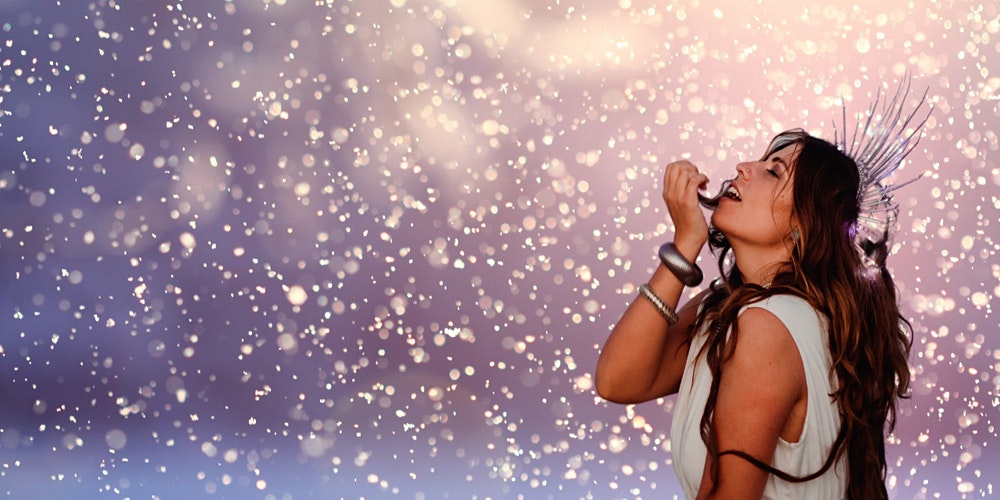 Details
An immersive journey into the centre of your Self.
Hey love.
Welcome to Embodying You!
Join us for an incredible evening, as we dive deep into our innermost selves – unlocking the authentic jewels and never-before-seen treasures, buried inside each of us.
Are you ready?
Let's go.
What are the benefits of Experiencing You?
1. You get to connect with a whole group of like-minded women. We'll talk, share stories, laugh and open up about exactly what's going on in our lives. You'll experience being part of a community who value creativity, joy, play, laughter, kindness, connection and FULL unbridled self-expression.
(If that sounds scary, lean in closer.)
2. Cultivate creativity. Sick of letting anxiety cloud your vision and suppress your natural joi de verve? We'll learn exercises and tools that help you kick anxiety (and depression) to the curb.
Your Life is a work of Art. It deserves to be lived as such.
3. Take time for yourself – refocus, reconnect and re-prioritize. Know how powerful you are – and how to act from that empowered place – and learn how to navigate change and growth with ease and grace.
Who is it for?
Embodying You is for the rule-breakers – the misfits and change-makers with a heart of gold. You might feel like you don't know who you are, why you're here or where you "fit" on the planet – but you know you are here to do something amazing – and you know you're here to make the most out of this life you've been given.
You want to experience what it's like to be the Creator of your own life (instead of just a player in somebody else's).
**Women ages 13+ are welcome.
What to expect:
The event has its own unique *magic* that means every circle is different, but you can expect epic conversations, music, stories, reflection time – and some beautiful tools and take away's you can take with you to practice at home.
For parents:
Embodying You is your daughters Home away from Home – a place where she can come to learn all the (other) essential life skills – how to regulate her emotions, be with herself (and be blissfully happy) and share her work and gifts with the world in a unique and powerful way…
Hear what other Embodying You participants have to say…
"You are the center of the Universe. Don't put yourself down for other people. Make you a priority. I've felt more in the first half of this circle, than I have in six weeks with my counsellor."
Ezra
"I've learnt to harness my emotions and use them for the better. I've learnt to bring joy into a day that I could have chosen not to be joyful. I've learnt how to be myself. I've had a lot more fun."
Hannah
"This space is incredible. I think so many groups of friends should be having these talks. There's so many issues we keep putting under the carpet. This is such a good friend group because they have spaces to talk like this."
Sunny
"I've learnt there are so many more perspectives you've got to be open too. I've learned to play around with understanding other peoples perceptions and experiences – and play with myself through their scenarios."
Lily
"I'm saying exactly what I want. I'm doing exactly what i want. I'm going where I want. I just… feel so much like myself I don't even recognise it. I'm having so much fun exploring myself."
Ruby
"I feel like I've lived through some of your experiences and gained your prior knowledge. I have learnt to feel not just the good emotions but all the emotions – the ups and the downs – and let them do their thing. Come and do it. You'll learn life lessons. It gives you a new outlook. you can approach things differently."
Isabella
Please bring:
– A journal and pen
– ALL of you – is welcome
Water, tea and fresh fruit will be provided.
If you have any questions, feel free to email – jaemareeschaefer@gmail.com.
All my love,
Jae.
About Me
I'm Jae Schaefer. I'm a speaker, writer and certified life coach. Over the past seven years, I have coached hundreds of young people struggling with fear and self doubt, into the most confident, alive and self-expressive versions of themselves. Seeing people completely LIBERATED from the fear that has been holding them back – gets my heart beating that little bit faster. I can't wait to help you transform your life, into the glorious masterpiece only you can create.
Map