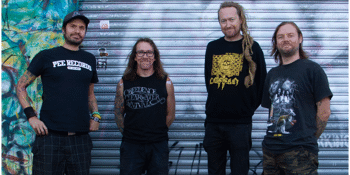 Details
This event has been reacheduled from Friday 13 August to Saturday 25th September. All current tickets remain valid for the new event date
********************************
Health Officials confirm:Theonly thing slower than Australias vaccine rollout is writingthenew Frenzal album.
The small possibility of blood clots from theAstraZenecajab has been eclipsed today, by the even tinier chance of any new music from Australias semi-favourite still-here punk rock band before 2022.
In a late night hastily organised press conference, Frenzal Rhombs chief medical officer Doctor Lindemans was quick to hose down speculation that the delivery of their new songs had been hampered by theEuropean Union hoarding all the riffs, explaining Our studies have shown that genetic mutations are creating new variants of power chords played fast through a distortion pedal which are continuing to emergedaily. Were confident it wont be too long before some of those chord progressions reach our shores.
In the meantime, Frenzal Rhomb have announced todaytheyreembarking on a large-scale inoculationrolloutprogram fromMay through to November. The band will bringtheir existing riffs, lyrics and melodiesto towns and cities across Australia playingintimatevenues to large scale festivals (hub style) to ensure we, as a nationreach herd immunity… and life can go back to normal as soon as possible. Areas left outofthese rollout datesare told to be patient, or just get on a bus. Please bring your Medicare card.
Map