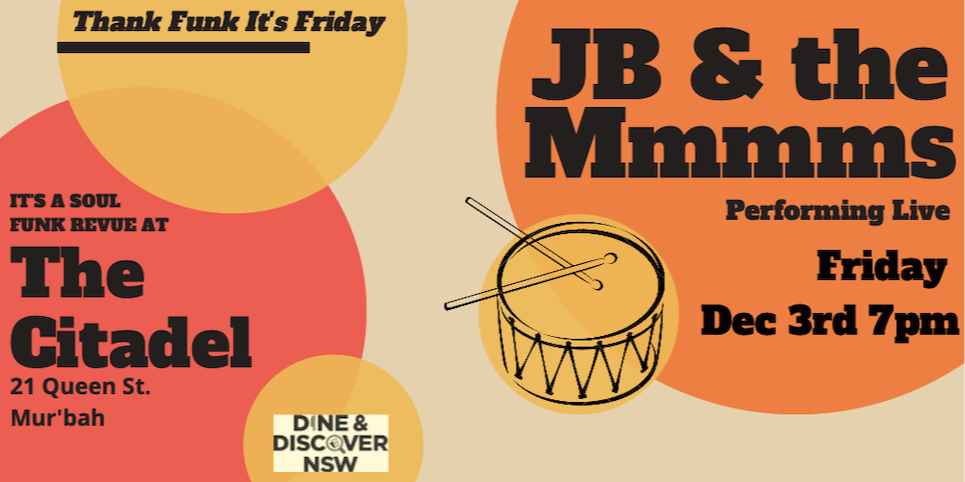 Details
BACK BY POPULAR DEMAND
Thank Funk It's Friday!!
Featuring the one and only….
JB and The Mmmms
Performing for you on Friday December 3rd.
Dance yourself clean of those lockdown blues with a larger allowed capacity then ever before! Say it loud ! Say it proud!
Get involved in thissoulful Christmas partyvibe featuring the beautifully talentedMohini Cox. Murbar's own saxy star Martha Baarts and the ever funky hot shotstylings of the Mmmmsband.
Kick off your silly season with this Northern Rivers 6 piece who deliver strong funky renditions of some your favourite soulful jams. When there's music in your soul, there's soul in your music. Get into it !
This will be a night to remember…. Last time they played,as some of you will recall, was the night before lock down in late June. It was epic. Then we had to close. Now we are open again with increased capacityand it will beeven morespecial.
Please use your dine and discover vouchers for this event. Find out more here
Hope to see you and your funky friends here on December 3rd.
Music from 7pm but come a little early…
Thank you for supporting local live music.
Map