Live @ The Courtyard presents: Jerome Williams & the Jesse Witney Trio.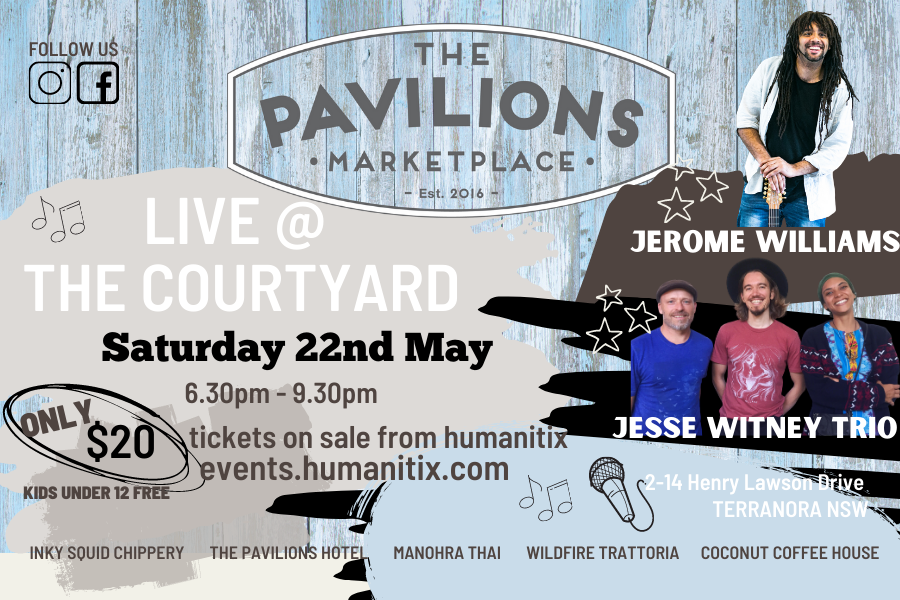 Details
Live @ The Courtyard presents: Jerome Williams & the Jesse Witney Trio.
Join us at The Pavilions Marketplace for our 2nd Live @ The Courtyard Event for 2021.The Pavilions Marketplace is bringing the funk, so get your groove on! Bring those dancing shoes and get ready to Boogie..
Jerome Williams:
Jerome describes his music as melodic, percussive, funky R n B based roots with a touch of rap and a sprinkling of Jazz… or as he likes to call it 'acoustic fusion'. He has meshed together guitar techniques and styles from across the musical landscape coupled with funky soulful, even hard hitting rock & rap vocals that he seamlessly fuses elements of classic roots with contemporary and progressive genres. Blending such varied influences as Usher, Kendrick ,John Butler, Rodrigo Y Gabriella, Linkin Park, Eminem, Victor Wooten and Ray Charles… one can begin to grasp his scope and incredible ability.
Jeromes' eclectic collection of instrumental and vocal song writing skills combined with his ability to push musical boundaries make this multi- instrumentalist with a captivating smile destined for something big!
Jerome will be releasing his first album "Under Construction" this year, and will showcase his original songs as part of Live @ The Courtyard
The Jesse Witney Trio:
Blending Jazzy chords with catchy melodies, Jesse Witney' songs can quickly become stuck in your head on high rotation. A dynamic vocal range accompanied by authentic charm, and tasty guitar skills to boot, its easy to become drawn into his world. Accompanied by formidable musicians Linden Lester on electric bass and Zaynab Wilson on drums, the trio locks into funky danceable grooves, and beam positivity into the atmosphere
Jesse Witney is an independent artist who weaves Soul, Brazilian and Roots styles into uniquely Australian music. His thirst for exploration and love of world music have seen him journey abroad to share his music in the UK, Brazil, Germany and Hawaii.
Splendour in the Grass, Woodford, Island Vibe and The National folk festival are just some of festivals that Jesse has performed at in Australia. Internationally he has toured twice in Germany as the Jesse Witney Trio, and performed in Hawaii with Artists such as Tubby Love, Amber Lily and Charlie Magee (Formidable Vegetable Sound System).
The Pavilions Marketplace:
Set high in the hills of Terranora, the pavilions marketplace is home to a range of amazing eateries, and great pub with 180 degree views, and an open air courtyard that showcases live music, markets, and a range of events,.
Order dinner from one of the restaurants on site, grab a beer from the pub, or byo from the drive though and come and enjoy live music in the courtyard of The Pavilions Marketplace.