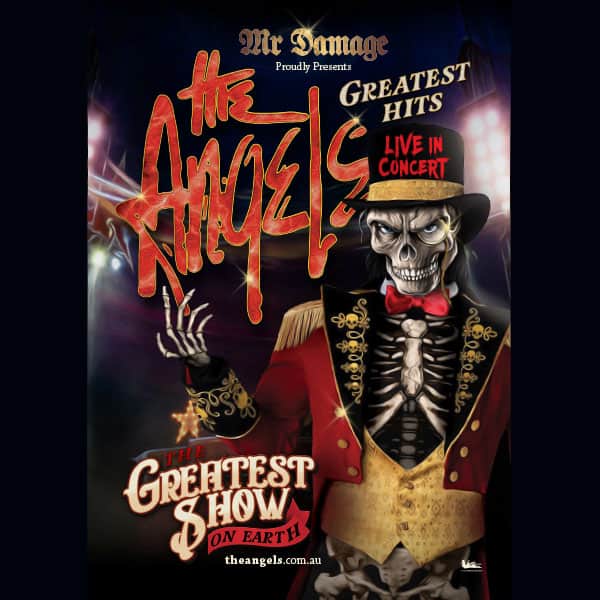 Details
The Greatest Show on Earth
Emerging from lockdown, The Angels wanted to put something big together to reconnect with their fans. And for Angels fans, it doesnt get any bigger or better than this an unbelievable greatest hits show.
Mr Damage Presents The Angels: Greatest Hits Live In Concert
The Greatest Show On Earth.
Were talking wall-to-wall hits Am I Ever Gonna See Your Face Again, No Secrets, Take A Long Line, Shadow Boxer, Marseilles, Comin Down, After The Rain, Face The Day, Fashion and Fame, Let The Night Roll On, We Gotta Get Out Of This Place, Mr Damage and more.
This is it, folks, over the top!
Twin Towns wraps up the ultimate package! Overnight 4 star accommodation, an evening of first class entertainment and a sumptuous breakfast.
Show + Stay Package




from $379 (2 pax)
Show + Stay packages cannot be booked online. Simply call our friendly reservations team to book your package on 07 5506 6200, or fill out the online enquiry form and we will get back to you.
Please ensure that when booking shows you do so using the Twin Towns authorised ticket office.
Online: www.twintowns.com.au all online sales will be redirected to seatadviser.com to process ticket orders.
Phone: 1800 014 014
In person: Show Bookings and Membership counter at Twin Towns.
If tickets are purchased through other channels you will do so under the independent sellers Terms & Conditions
Twin Towns will not be responsible for any charges or costs incurred.
WE ENCOURAGE YOU TO ONLY PURCHASE SHOW TICKETS FROM THE AUTHORISED TWIN TOWNS TICKET OFFICE
Map