Take The Lead in Your Business with Finance, People, Strategy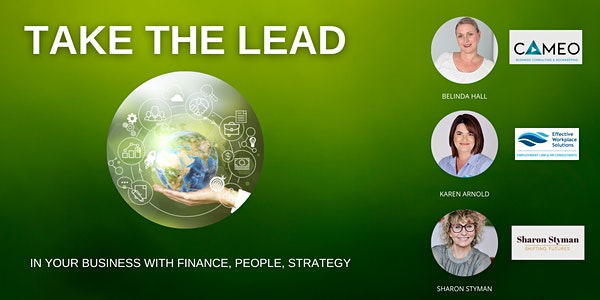 Details
Taking charge and making the right decisions at the right time is critical for businesses.
In order to do this it is important to know what business environment and business cycle you are operating in.
This seminar is a must for every business owner. We provide insight, knowledge and tools to tackle the 3 most critical areas a business owner has to manage.
Managing Cashflow with Belinda Hall of Cameo Business Consulting
Managing People with Karen Arnold of Effective Workplace Solutions
Knowing what strategy is next with Sharon Styman of Shifting Futures
Benefit from working with 3 experts in their specialised field for a day and walk away with your own action plan to negotiate your next steps with ideas to help you elevate your business and prepare you and your business to achieve success.