Small Business Networking + How to Generate Leads Online for FREE Workshop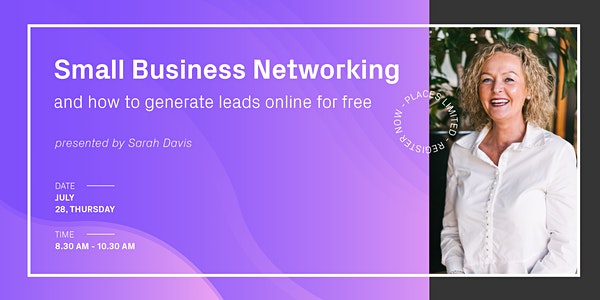 Details
Learn how to generate leads for FREE online while networking with other small business owners over brunch by the beach!
Join us at this networking event to meet like-minded individuals, sole traders, entrepreneurs, and small businesses to learn about the available support through Business Station.
You will learn from Business Station's Sarah Davis about how to generate leads online FREE and get advice on growing your business.
Take advantage of this networking opportunity and connect with other business owners, service providers, and community leaders.
Come along and enjoy brunch whilst you build your business network in a relaxed atmosphere.
Business Station helps small businesses grow and succeed by providing affordable and accessible training and business support. Our programs offer a range of services including digital advisory, advisory groups, business coaching and workshops.
ABOUT THE PRESENTER
Sarah Davis is an award-winning marketing professional with a friendly and approachable nature. Having worked in marketing for over 25 years, 13 of those years in shopping centres, she has extensive knowledge of the retail industry. Sarah likes to think outside of the box, developing creative and successful initiatives that give a good return on investment. Retail is becoming an exceptionally tough gig but Sarah comes with a wealth of knowledge and experience and is dedicated to helping businesses develop and move forward.
Holding a number of senior strategic and management positions in marketing, Sarah has been a regular speaker for the Property Council of Australia, offering advice and guidance to peers. She has worked with well-known ASX50 listed brands and today brings her thinking and discipline to businesses just like yours, making it easy, understandable and affordable.
With her innate insight and intuition, keen understanding of human nature, and practical marketing and communications skills, Sarah can help you see what to focus on to ensure your company grows. She can help you implement necessary changes to your marketing and provide marketing coaching to keep you on track for success.
With experience in all areas of marketing from branding and strategy, web design and social media to content creation, advertising and SEO, Sarah can assist with just the services your business requires.