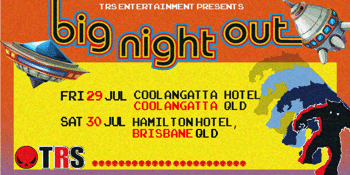 Details
TRS ENTERTAINMENT PRESENTS
THE RED SKULL'S BIG NIGHT OUTTHE BEST OF THE BIG DAY OUT 1992-2014
The Red Skull is back with the best of the Big Day Out live!
Ah, the Big Day Out. What a time to be alive! Drinking and dancing with your friends, getting way too much sun and checking out the hottest bands of the day.
When you talk about Aussie music festivals, the Big Day Out was the grand-daddy of them all. From its modest origins in Sydney in 1992 through to Pearl Jams last chords ringing out across Joondalup in 2014, the BDO was a rite of passage for Aussie music lovers for over 20 years. Now, three years on from their original Big Night Out, The Red Skull is stoked to be able to tour "the best of the fest" around Australia once again.
We've packed 22 songs from 22 years of Australia's most loved music festival into one massive two hour show, and we can assure you that there are some real big surprises in there including some songs that other bands won't go near live.
In order to provide the complete, authentic BDO experience, The Red Skull will be joined byDJ Britty(WA) andDJ JSD(QLD) who will be bringing back the Boiler Room. The Chemical Brothers, Fat Boy Slim, New Order theyre all there together with so much more.
Live music is back, and that makes The Red Skull's Big Night Out is the must see show of the year, so grab a few mates, throw on your Vans, 501s and that dope Beastie tee and get ready for an unforgettable Big Night Out.
Map