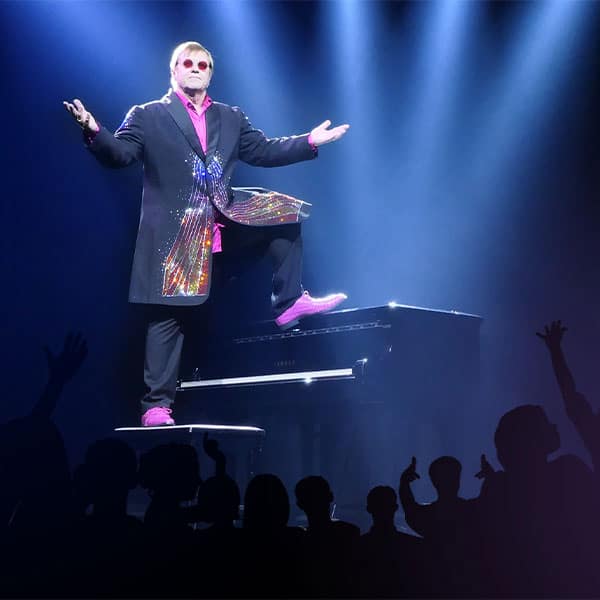 Details
Greg Andrews Sings The Elton John Experience
When it comes to performing the music and having the look of Sir Elton John, there are few that embody the presence and uncanny likeness quite like Greg Andrew. He owns the stage, channels the music, and has audiences believing it could really be the man himself! With his virtuosic piano playing, combined with his vocal timbre, it is no surprise that Greg chose to showcase the music of his hero Sir Elton John in Rocketman the blockbuster movie soundtrack, live in concert.
The Elton John Experience is known for paying homage to the great music of Sir Elton John and Bernie Taupin. They have put on a hugely successful run of shows, both in Australia and overseas with performances in over 30 countries and to a collective audience of over 500 000 people.
"I hope the crowds will come and bring the global phenomena of the Rocketman movie to life with myself and the band on stage. Sir Elton always made the audience feel like every show was their show and I'm no different – make it a celebration of this incredible music and musicianship, make it a memory."
The Rocketman in concert will feature hit after hit from Elton's back catalogue. With tracks such as I'm Still Standing, Saturday Nights Alright For Fightin', Candle In The Wind, Daniel, Honky Cat, Don't Let The Sun Go Down On Me and Crocodile Rock to name a few, it will be a spectacular evening from start to finish. Greg Andrew and the Elton John Experience band look forward to exchanging that love and energy of Sir Elton John with audiences. This show and these songs will give you the ultimate Elton John Experience.
Twin Towns wraps up the ultimate package! Overnight 4½ star accommodation, an evening of first class entertainment and a sumptuous breakfast.
For one inclusive price, stay overnight in a Hotel Room at Sebel Twin Towns and see a show at the famous Twin Towns Showroom. Spend the day exploring Tweed Heads or Coolangatta on the southern end of the Gold Coast, then head to the show. Resort packages also include a full breakfast the next morning in Signatures Restaurant.
SHOW & STAY PACKAGE
From $360
FOR 2 PEOPLE
Show + Stay packages cannot be booked online. Simply call our friendly reservations team to book your package on
1800 19 20 20, or fill out the online enquiry form and we will get back to you.
Please ensure that when booking shows you do so using the Twin Towns authorised ticket office.
Online: www.twintowns.com.au all online sales will be redirected to ticketsearch.com to process ticket orders.
Phone: 1800 014 014
In person: Show Bookings and Membership counter at Twin Towns.
If tickets are purchased through other channels you will do so under the independent sellers Terms & Conditions
Twin Towns will not be responsible for any charges or costs incurred.
WE ENCOURAGE YOU TO ONLY PURCHASE SHOW TICKETS FROM THE AUTHORISED TWIN TOWNS TICKET OFFICE
Ticket purchases are subject to change dependent on Government COVID guidelines & regulations at the time of the event.
This may require rescheduling of dates or changes to ticketing configurations if seating is required under government guidelines.