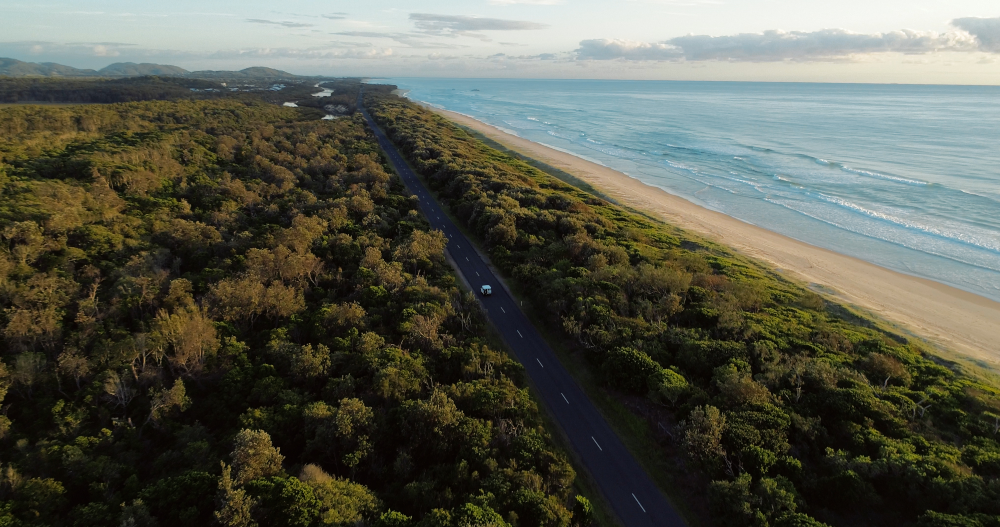 FROM SAND TO SOIL
If you can't decide between country road drives or diving into beachside towns, then don't! You can have the best of both worlds when touring The Tweed.
Take a day or two for some time beside the sea, catching waves, taking beach walks or just breathing in the ocean air, then head inland to discover ancient landscapes and country towns filled with art, food and plenty to do.
Trip planner
Day 1 – Kingscliff, Cabarita Beach
Kick off your four-day coast to country journey with a quintessential day of beach play in the sparkling seaside hub of Kingscliff.
Arrive in the morning and find breakfast or coffee along the aptly named Marine Parade. You'll find plenty of options, such as local favourite Choux Box.
Fuelled up, it's time to hit the water. Book ahead for aquatic adventures with Watersports Guru, from snorkelling with turtles and kayaking on calm waters or a stand-up-paddle mindfulness experience. Check tour times to map your day.
Settle in for a laid-back pub lunch at the Kingscliff Beach Hotel before an afternoon clay-making session with the talented team at Stone Studio.
Round out your beach day with a night spent sleeping seaside. There's a wide variety of styles and options right along this beautiful coast. For a dinner treat, book in for casual Italian tastes at No 35 Kitchen and Bar in Cabarita Beach village.
Day 2 – Cabarita Beach, Hastings Point, Pottsville, Mooball, Burringbar
Up early to the sound of waves, grab a brekky bite and sip of choice from cold pressed juices and healthy tonics to smoothies and coffee at Nectar Juice House in Caba.
Stretch the legs with a short walk up to Norries Headland, a great vantage point for 360 degree views out to the horizon and nearby hinterland ranges.
Follow the coastline south to Hastings Point for sometime at the Marine Discovery Centre at North Star Holiday Park, a great spot for kids and ocean-lovers alike.
Continue south on to Pottsville and take a seat at Black Drop Cafe for a delicious lunch before steering your wheel west and heading inland, switching views of blue for scenes of green, as far as the eye can see.
Aim your map for Mooball and stop in at this tiny town to browse original art at Quilla Design Emporium, a gorgeous space for mixed-media works by local female artists, designers and artisans.
As dusk draws near, take a turn on to Broadway, the main street of Burringbar, and settle in for a wine experience at Brooklyn Tasting Room, where you'll find well-stocked walls of take-home bottles, especially natural wines and craft beers.
Time to rest for the night at the peaceful EcOasis Mami Wata, set in lush forest with stunning views out to Wollumbin Mount Warning
Day 3 – Uki, Murwillumbah
Awake to bird calls and country light then head to Uki for morning coffee (or tea!) at Bastion Lane Espresso, a mecca for bean fiends from near and far. Within the combination cafe and post office is also Art Post Uki, celebrating the work of local artists.
From here, take a short drive to breathe in the serenity of Clarrie Hall Dam with beautiful views found at Crams Farm, before journeying into Murwillumbah for lunch at your pick of cafes ahead of some relaxed retail therapy.
For unique boutique pieces don't miss Knox & Co and Each to Own, as well as a browse for original art and much more at M|Arts Precinct. Book in for an overnight stay at The Imperial Hotel, a grand old art deco pub that's been lovingly restored, and check ahead for session times at the historic Regent Cinema to catch an evening movie.
Day 4 – Tumbulgum, Tweed Heads West
Grab an early breakfast in town and, before you turn the wheel towards home, there's time to fit in a couple more Tweed experiences.
Enjoy the morning on board a Tweed Escapes tour where you can cruise the Tweed River learning about the region's incredible nature, birdlife and history, or book ahead for their Picnics on Water experience, tasting locally grown and made food with a focus on sustainability.
Finally, head back towards the coast for a lunch of seafood delights and afternoon cocktails at The Oyster Shed in Tweed Heads West. Oyster fans from all over flock here for freshly shucked goodness from both the Shed's own oyster leases as well as their favourites from further afield, served up in myriad ways to suit all palates.