Home to the majestic Wollumbin Mount Warning and comprising part of the Gondwana Rainforests of Australia World Heritage Area – the most extensive subtropical rainforest in the world with ancient plants and animals from the beginning of time – the Tweed hinterland is naturally a place for immersing in green forests and fresh air.
Chart your nature journey around some of the area's gardens, nature reserves and must-visit National Parks for hikes, biking, a picnic, birdwatching or simply breathing in the Tweed's innate restorative energy, fresh air and green landscapes.
So lace up your walking boots, pack your sense of adventure and set off on a refreshing 2 day escape to discover the Tweed's diverse, natural beauty.
Trip planner
Day 1 – River trails, radiant gardens and ancient forest
Ease in to your nature journey ahead and start the day riverside with a morning bite and coffee in Tumbulgum, overlooking the winding turns of the Tweed River, with thick rainforest and Wollumbin Mount Warning as constant backdrops.
For keen paddlers, bring your own kayak or hire one here to glide along the Tweed River, taking in its vast bends and the tall sub-tropical rainforest of Stotts Island, home to native birds, lizards, snakes and frogs. You can also opt to explore smaller tributaries on the Rous River Canoe Trail.
Head next to Murwillumbah, stopping by to take in the Tweed Regional Museum's excellent Land|Life|Culture exhibit to better understand the area's geological evolution.
It's a pretty 20 minute country drive to Tyalgum, via Bray Park and along the Tyalgum Road as it traces the curve of the Oxley River. Time your visit for spring or autumn to tour the bursting colours and peaceful pockets within Tyalgum's tranquil Garden of Light, a 25 acre property celebrating all manner of gardens, from cottage to Tuscan and even some Monet-inspired plantings.
Enjoy lunch at Flutterbies before heading north along Limpinwood Road. Take in sweeping valley views from Tyalgum Lookout, found along Boxsell Road, then continue on via Chillingham to overnight at Crystal Creek Rainforest Retreat.
Here you'll be embraced by ancient Gondwana rainforest, with over 8 kilometres of tracks and fern-lined gullies to explore. There's also a babbling brook to recline by and glow worms to spot at night!
Day 2 – Walks around Wollumbin and up to The Pinnacle Lookout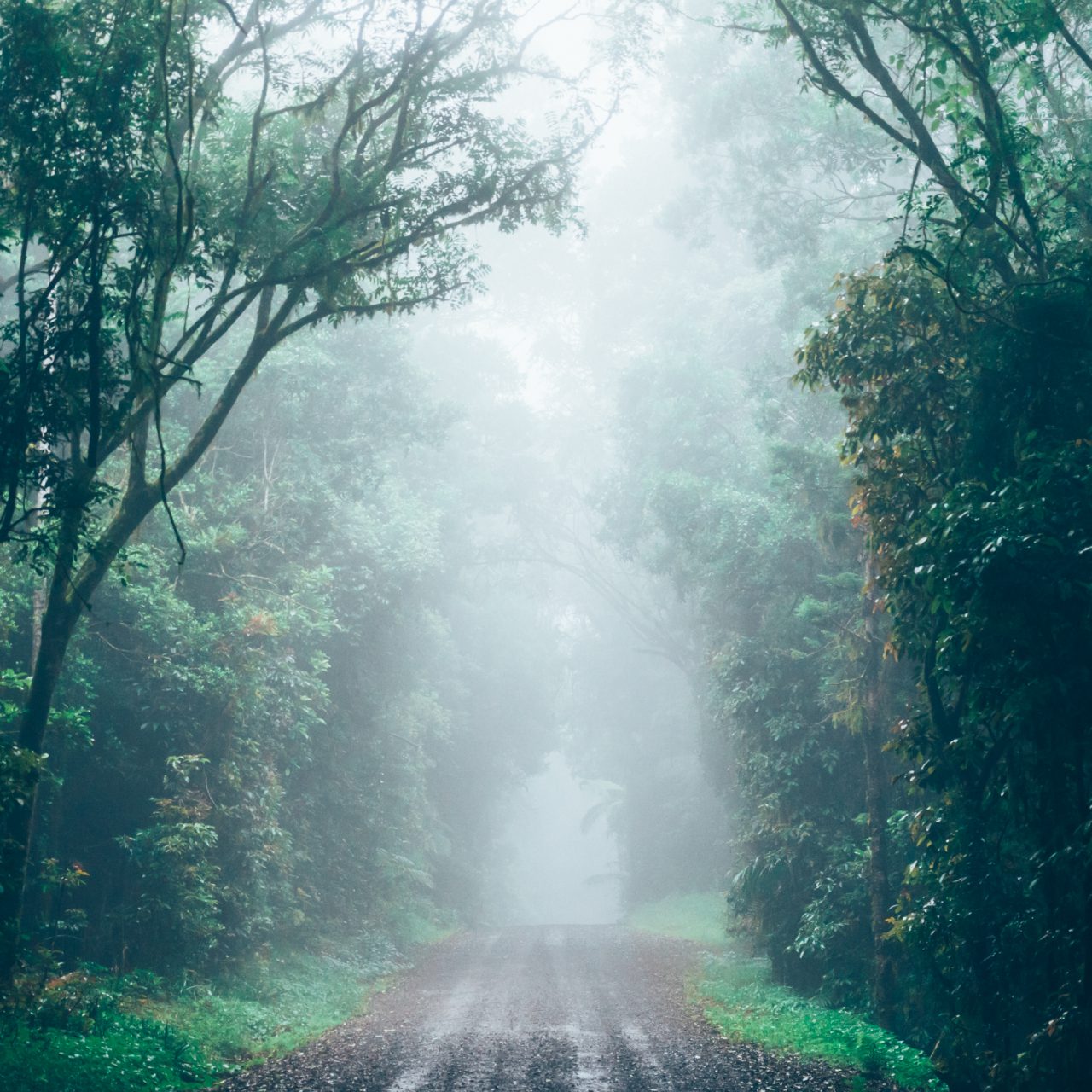 Start early today with sustenance on-the-go from nearby Crystal Creek Estate (also home to a wonderful plant nursery) and track back via Murwillumbah towards Uki. Turn off at Mount Warning Road, which meanders through dense forest and tall trees, inching higher to the very base of majestic Wollumbin Mount Warning.
From a map, you'll see the arc of National Parks that form a mountainous embrace of the Tweed Valley. These mighty ranges were once the outer edges of a towering shield volcano, with Wollumbin Mount Warning the central vent, and are home today to a network of lookouts and tracks navigating our scenic highlights. A place of great sacred significance to the Bundjalung indigenous people. Meaning 'cloud catcher' in local indigenous language, the peak of Wollumbin rises to a towering height of 1,157m above sea level.
Returning along your earlier route, head south towards Uki (grab a quick takeaway bite here for lunch later) and along Kyogle Road towards Lillian Rock to start your journey into the Border Ranges NP and to The Pinnacle Lookout.
Note!
The road from here is gravel so only proceed if your vehicle is suitable to the surface. Be sure to allow enough time in your day to travel safely and comfortably – from Uki to The Pinnacle Lookout, allow about 90 minutes' driving and at least 30 minutes to enjoy the view.
Turn right onto Williams Road and Greegans Road, reaching the Tweed Range Scenic Drive, via Blackbutt Lookout, to journey into the Border Ranges NP and arrive at The Pinnacle Lookout.
Bring your camera and take a short walk through forested tracks to be rewarded with extraordinary panoramic views at this iconic spot, taking in the vast Green Caldera and standing high on what was once the rim of an ancient shield volcano. Dramatic escarpments blanketed in trees and vast World Heritage rainforest feature in this breathtaking 360 degree outlook.
For keen walkers and experienced campers with all the right gear, you can choose to continue your adventures from here, with myriad walking tracks and camp spots at the ready, in both the Border Ranges NP and the adjoining Mebbin NP.
Or, if this is nature enough for your day, retrace your path towards Uki to check in and rest up overnight in a cosy chalet at ecOasis Resort.
Take care!
Check the NSW National Parks website ahead of your visit for more details and guidance on exploring our National Parks safely and to check on any current advice or warnings.